EARTH ROD ELECTRODE RESISTANCE USING E-MIX CONDUCTIVE EARTHING COMPOUND
E-Mix conductive earthing compound, is a technique where the ground immediately surrounding an earth electrode is replaced with a low
resistance material. The intent is to reduce the earth electrode resistivity. Use of E-Mix would be in areas where the soil resistivity is very high and problems arise in trying to achieve the require electrode resistance.
SINGLE EARTHROD ELECTRODE-ELECTRODE RESISTANCE
The resistance of a single earth rod is calculated if the soil resistivity is known. An electrode driven vertically, the electrode resistance can be calculated using the equation:

RESISTIVITY OF SOILS
The resistivity of soils varies from site to site and is influenced by:
- the depth from the surface
-the type and concentration of soluble chemicals in the soil
-the moisture content
-the soil temperature
The soil resistivity is dependent on the electrolyte in the soil. The presence of surface water does not necessarily indicate low resistivity.
In the absence of a proper soil survey.
Table 1 gives typical soil types and the expected resistivity.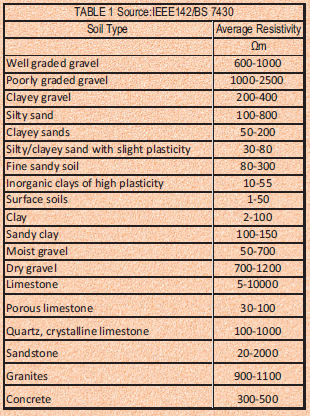 REFERENCES
1. IEEE 142
2. BS 7430
3.V. PANGONILO